Needs:
Hydration – cases of water or other individually packaged drinks.
Snacks – non-perishable, individually packaged drinks.
Needed by local hospitals. Stamford Hospital Labor and Delivery has requested this help and it's possible other departments there as well as other local hospitals like Norwalk and Danbury are in need. We are reaching out to them. If you have a contact or represent a hospital and need help, please contact us.
Please sign up or contact us at warriorhelpers20@gmail.com and we will help coordinate your donation.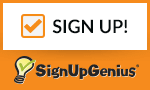 Pickup/Drop Off:
Other Information: